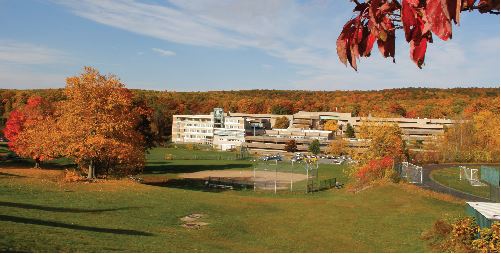 The first two-year college to be founded in the Commonwealth of Massachusetts, Holyoke Community College (HCC) is widely recognized as a leader in high-quality, affordable education that enables pathways to transfer or immediate entry into the workforce. A designated Hispanic Serving Institution, HCC serves a diverse community with more than 80 degree and certificate programs, and online, blended, evening, and Saturday classes that accommodate the busy lives of our students. The HCC Center for Health Education and Simulation, Kittredge Center for Business and Workforce Education, HCC MGM Culinary Arts Institute, and Campus Center provide students with state-of-the-art resources and the knowledge and skills they need to be successful. 
Throughout the year, HCC is home to numerous recreational and cultural activities and events that are open to the community. View an art exhibit at the Taber Art Gallery, catch a live performance at the Leslie Phillips Theater, enjoy the annual HCC Jazz Festival, or come watch one of the HCC competitive varsity athletic games. HCC has the largest disc golf course in western Massachusetts, and it's free and open to the public. We invite you to visit and get to know us!
ACCESSIBILITY
HCC is committed to accessibility and inclusion, and to ensuring that all are able to participate in college programs, activities, and events. Information on parking, getting around campus, accessible restrooms, and aids and services is available at https://www.hcc.edu/about/visit-hcc/accessibility
SMOKE-FREE CAMPUS
HCC is a smoke-free campus everywhere, all the time. This policy applies to all students, faculty, staff, and visitors.
DISCLAIMERS
All policies related and relevant to College Standards can be found in the HCC Student Handbook on the HCC Publications page.
The information contained in the College Catalog was checked for accuracy at the time of printing. Changes in college policy and the requirements of Areas of Study are made regularly, which could make some of this information obsolete before the next catalog revision. Students should review revisions that are announced each semester in the schedule booklet and check with academic advisors to ensure the current accuracy of important information.
In the event of typographical errors, the information formally approved by the college and on file will take precedence over the catalog.
Estudiantes cuya lengua natal sea español y cuyo nivel de comprensión del idioma inglés sea limitado, deben referirse ala página 8 para más información.